In 2014, approximately $700 million in venture funding poured into digital health care in China, with investors supporting all things digital, from e-commerce to online physician-and-patient communication services to disease management apps. This is just the beginning.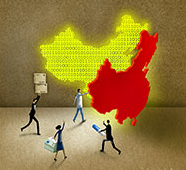 As mobile and Internet-based technologies are developed and deployed to improve health care delivery for China's population of 1.3 billion people, the nation's digital health-care market will grow exponentially. We expect that this market (measured by spending on digital health care) will expand from $3 billion in 2014 to $110 billion in 2020.
Health care in China will be transformed. Every step will be affected: how patients are diagnosed, treated, and managed; how physicians and hospitals operate; how pharmaceuticals and medical-technology (medtech) devices are supplied and used; how payers structure their offerings.
The size and nature of the changes and opportunities will vary for stakeholders along the health care value chain, however. Some stakeholders will have the opportunity to digitize existing processes for improved efficiency. Some will encounter not opportunity but risk—they could find themselves cut out of the value chain altogether. But for others, technology advances will provide the opportunity to build entirely new businesses.
Regardless of the dynamics within any particular segment, all players must develop new mind-sets and new business models:
Digital players newly entering the health care field must strike partnerships with hospitals, physicians, and other parties to capture first-mover advantages in e-commerce and certain services by leveraging their mobile payment, social- media, and search engine tools.
Pharmaceutical and medtech companies need to harness digital tools to improve their sales and marketing efficiency, provide disease management solutions, and deploy big-data analytics to inform portfolio decisions and boost R&D productivity. They will need to enter into partnerships with e-commerce providers as consumers increasingly purchase products online. Those purchases, which currently include over-the-counter drugs, health food and supplements, and consumable medtech devices, are likely to encompass prescription drugs in the future.
Drug distributors and retailers must move quickly to avoid being displaced. They must either build e-commerce capabilities of their own or partner with emerging e-commerce players.
Payers have the opportunity to develop new businesses including digital services, such as remote physician consultation, that will help attract new customers in the near term. They can also use big-data analytics to lower costs and improve patient outcomes over the longer term.
Companies in all four categories have the opportunity to shape the digital transformation of the health care market in China.
Articolo di Magen Xia, Lillian Poon, Michael Choy, e John Wong su BCG.Perspective