A Berlino un appuntamento internazionale sui temi della health technology. I lettori del Center for Digital Health Humanities potranno usufruire di uno sconto del 15% sul prezzo del ticket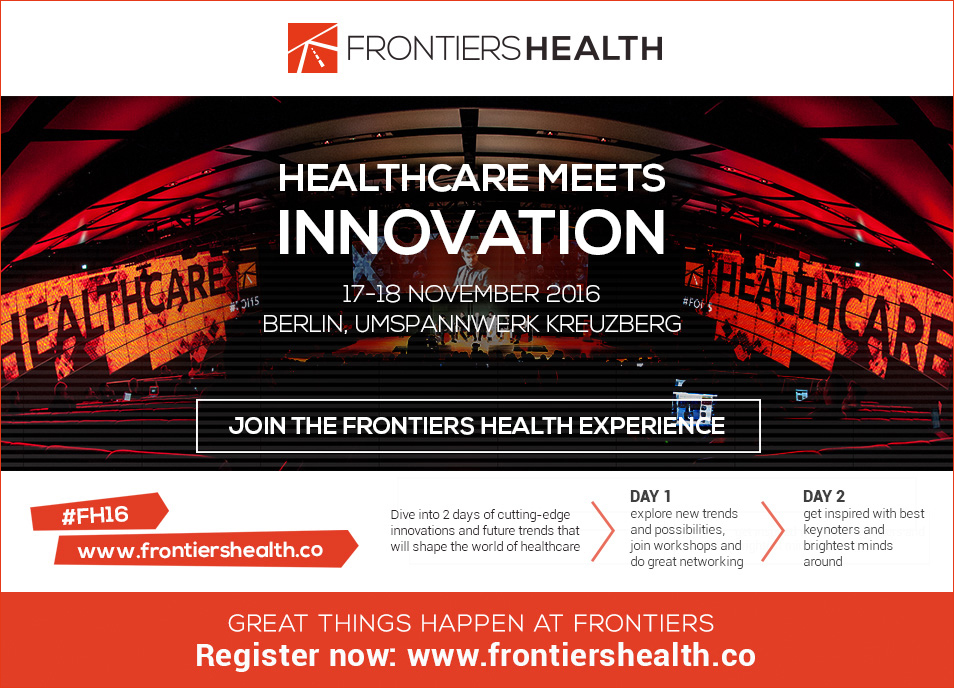 Il 17 e il 18 novembre a Berlino si terrà l'edizione 2016 di Frontiers Health, appuntamento internazionale che ospiterà i player più influenti nel campo dell'innovazione sanitaria. Due giorni di conversazioni e intense sessioni  su come trasformare il settore e guidare il cambiamento nella Digital Health.
La rapida evoluzione della tecnologia e delle applicazioni tecnologiche sta trasformando il settore della sanità e sta creando nuove opportunità di health technology, terapie digitali e soluzioni digitali per l'innovazione sanitaria.
Keynotes, approfondimenti e e sessioni interattive si concentreranno su circa otto temi principali: Breakthrough Innovation, Design for Health, Digital Therapies, Health Insurance Innovation, Reimbursement e Business Models, Scientific e Medical Validation, Start-up Funding, Strategic Partnerships.
Durante l'evento due panel principali: nel primo un analisi dell'ecosistema della digital health in Europa; il secondo dal titolo "Healthcare convergence: a new medical ecosystem for the 21st century". Tra gli speaker Ralph Arnold – Partner and Co-Founder, TransAct Advisory Services, Eugene Borukhovich – Global Head, Digital Health Incubation & Innovation di Bayer e Jeff Dachis, founder of OneDrop.
Per consultare il programma completo dell'evento visita il sito di Frontiers Health 2016. I lettori del Center for Digital Health Humanities potranno usufruire dello sconto del 15% sull'acquisto di un biglietto Standard o Premium. Registrati sul sito e inserisci il codice cdhu15_fh16
Dal 2005 Frontiers Conferences promuove conferenze internazionali su tecnologia e innovazione. Frontiers Health è la prima conferenza europea sull'Health Innovation per conoscere le startup e le nuove tendenze del campo dell'innovazione sanitaria.