Sei motivi per cui il patient engagement nello sviluppo del farmaco non è solo giusto, ma anche utile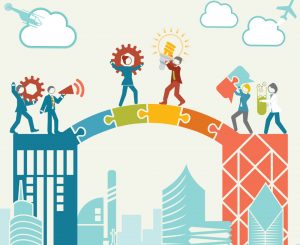 Qual è il contributo unico che i pazienti possono portare ai processi di ricerca e sviluppo finalizzati alla produzione di terapie? Una risposta arriva dal diagramma intitolato "Patient engagement across the research and development continuum".
Questo schema riepiloga i risultati dell'analisi svolta dalla Clinical Trials Transformation Initiative (CTTI), un centro studi finanziato tramite grant dall'agenzia del farmaco statunitense (FDA) e ospitato dalla Duke University. Il CTTI lavora per promuovere una ricerca che oltre a essere eccellente ed efficace nella produzione di terapie, ponga al centro il paziente. Infatti, uno dei valori guida è il concetto di paziente coinvolto come partner alla pari in tutte le fasi del processo di ricerca e sviluppo.
Le azioni con cui la comunità dei pazienti può contribuire al processo di sviluppo del farmaco sono rappresentate nel diagramma lungo tutti i passaggi che vanno dalla ricerca di base fino alla registrazione e distribuzione del farmaco e poi alla farmacovigilanza.
Guardando il processo in questa prospettiva, ci si rende conto che si tratta di un valore aggiunto che i solo i pazienti possono portare in dote nella collaborazione con ricerca e industria, proprio da partner alla pari come spesso auspicato.
In sintesi, possiamo parlare di 6 tipologie di contributo. Vediamole. continua a leggere