Augmented reality is one of the most promising digital technologies at present – look at the success of Pokémon Go – and it has the potential to change healthcare and everyday medicine completely for physicians and patients alike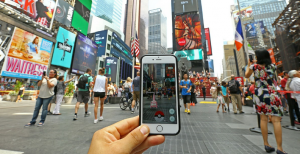 Articolo condiviso da Medical Futurist
By now, it is official: Pokémon Go conquered the world. TechCrunch reported that on the day when the game was launched, it immediately surpassed the daily time usage of Facebook, SnapChat or Twitter by the average iOS user on mobile phones. Tom Curry, a man living in New Zealand quit his job to become a full-time Pokémon hunter. In Central Park, herds of Pokémon Go players almost caused a stampede as they tried to capture a rare type of the imagined animal.
Rafael Grossmann, the first surgeon who performed an operation with the help of Google Glass, told me that Pokémon Go represents the ultimate gamification of an "activity" app, and that he does not think the inventors of the game such as Nintendo expected nor planned this effect in people.
The response is augmented reality (AR) and the rising interest of people in its use. Pokémon Go is made with exactly this technology: the device (in this case your phone) transmits a live or indirect view of a physical, real-world environment which is augmented by computer-generated sensory input such as sound, video, graphics or GPS data. In the future, augmented reality could be a built-in feature in a glass, headset or digital contact lens.
Augmented reality differs from its most known "relative", virtual reality (VR) since the latter creates a 3D world completely detaching the user from reality. There are two respects in which AR is unique: users do not lose touch with reality and it puts information into eyesight as fast as possible. These distinctive features enable AR to become a driving force in the future of medicine.


At the moment, there are certain hindrances to overcome but Grossmann thinks that AR and VR will be very common in healthcare within the next 3-5 years. According to Grossmann, the biggest obstacles are related to education, cultural change and acceptance, but the technical obstacles are absolutely temporal and not an issue at all, and cost-related barriers will also disappear in the future. continua a leggere