Innovazioni tecnologiche, terapie digitali e startup di successo a Berlino il 16 e 17 novembre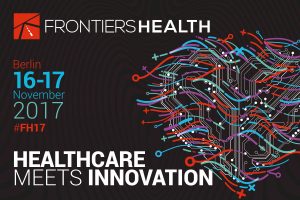 L'età dell'healthcare convergence ha avvicinato due importanti settori, la medicina e la tecnologia, creando nuove opportunità e trend emergenti quali le tecnologie applicate alla salute, le terapie digitali e l'assicurazione sanitaria.
Frontiers Health riflette la natura collaborativa e agile di questo settore in fase di cambiamento, dove l'integrazione di medicina e tecnologia offre l'opportunità di ottimizzare e migliorare la gestione della salute.
Dopo il successo dell'edizione 2016, Frontiers Health 2017 ritorna il 16 e 17 Novembre a Berlino nella spettacolare location AXICA, a pochi passi dalla Porta di Brandeburgo.
Oltre 400 tra esperti internazionali, innovatori di settore, manager delle principali aziende farmaceutiche, imprenditori, compagnie assicurative, startup e investitori si daranno appuntamento a Frontiers Health per costruire il futuro digitale del mondo salute condividendo le loro idee ed esperienze.
Quest'anno il format della conferenza prevede una Startup & Investor Lounge per incontri one-to-one tra aziende innovative e potenziali partner, ma anche business meetings e challenges rivolte a promettenti startup per valutare sinergie di settore.
Il Conference Chairman, Roberto Ascione, CEO di Healthware International, afferma: "Frontiers Health è subito diventata una delle principali conferenze internazionali sulla digital health, grazie al mix unico di partecipanti e relatori (fondi di investimento, aziende del settore life science, hub innovativi, assicurazioni, startup), offrendo una piattaforma unica di discussione su come le innovazioni nei diversi ambiti stanno convergendo, trasformando così il settore salute. Qualsiasi storia di successo nata dalla conferenza sarà un ottimo risultato per ognuno dei partecipanti che avrà contribuito attivamente a questo viaggio straordinario".
Tanti gli speaker di questa edizione tra cui esperti globali provenienti da diverse aree dell'ecosistema dell'innovazione in area salute, che condivideranno le loro conoscenze e le loro esperienze in talk ispirazionali e workshop interattivi in puro stile Frontiers.
I principali temi trattati:
Le Terapie Digitali, con la presenza di più di 30 aziende attive in quest'ambito, e un'intera sessione dedicata al recente lancio della Digital Therapeutics Alliance (DTA) i cui membri (Pierre Leurent, CEO Voluntis, Anand Iyer, Chief Strategy Officer WellDoc, e Vincent Hennemand, VP of Strategy, Corporate & BD Akili Interactive) illustreranno i cambiamenti in atto, le opportunità per healthcare providers e industria farmaceutica e l'impegno nel definire protocolli di cura e dati di efficacia clinica, grazie a quella che viene definita la terza fase della medicina.
Una presentazione di Roche (Tim Jürgens, Head at Roche Diabetes Care New Business Models) e mySugr (Anton Kittelberger, CFO) per parlare di una delle principali acquisizioni del 2017.
"The Medicine of Me" ovvero come cibo, musica, attività fisica e creativa sono capaci di attivare il nostro 'io interiore' con risultati clinici misurabili. Questo tema sarà affrontato in diversi talk tra cui Music Medicine con Walter Werzowa, Founder, MusikVergnuegen &
HealthTunes™ e Klaus Laczika, Doctorate, Medical University of Vienna, e Digital Nutrition con Valerio Nannini, SVP, Head of Strategies & Performance, Nestlé.
Nella sessione Transforming Pharma, introdotta da Paul Tunnah – CEO pharmaphorum media, alcune delle principali aziende del settore farmaceutico presenteranno le rispettive strategie di trasformazione digitale: Francesco Acanfora, Head of Digital Innovation & Services, MENARINI Group; Eugene Borukhovich; Global Head, Digital Health Innovation, Bayer; Fiona Cook, Senior Manager, Global Corporate Responsibility Programs & Steffen Kurzawa, Global Head Communications & Member of Sandoz Executive Committee, Sandoz International; Lana Ghanem, Managing Director, Hikma Ventures and John Gordon, Head of Digital, Internal Medicine, International Developed Markets, Pfizer Ltd.
Sullo stesso tema il workshop Innovating Customer Engagement organizzato da Healthware e Intouch Solutions per capire come coinvolgere i consumatori di oggi creando e fornendo esperienze di grande valore utilizzando le ultime innovazioni tecnologiche.
Il ruolo che investitori e large start-ups stanno giocando nel ridefinire l'ecosistema della salute sarà affrontato in due sessioni chiave:
Will M&A be the key to scaling Digital Health? Un panel moderato da Marc Slujis, Advisor, Digital Health Investment, con la partecipazione di investitori e aziende di settore: Francesca Domenech Wuttke, Managing Director/Investment Principal Europe, MSD Global Health Innovation Fund; Christoph Ruedig, Partner, Albion Capital; Marco Mohwinckel, VP of Strategy, WebMD; Marc Berrebi, Founder, eDevice; Steven Yecies, Venture Partner, OrbiMed.
Meet the Game Changers introdotta da Unity Stoakes, Cofounder and President StartUp Health, con la partecipazione di: Sarah Kerruish, Chief Patient Officer, Antidote; Chris Hodkinson, VP Business Development, Owlstone Medical Ltd; Michael Fergusson, CEO, Ayogo Health Inc.; Jordan Shlain, Founder & Chairman, HealthLoop.
Altri due importanti panel saranno dedicati rispettivamente al futuro dell'Health Insurance (moderato da Frederic Llordachs, Co-founder, Partner & Global Business Development Manager, Doctoralia) e ai Clinical Trials (moderato da Nana Bit-Avragim, Head of Strategic Relations, Medicinisto).
Tra i top speakers di questa edizione: Jeff Dachis, Founder & CEO, One Drop, Indra Ioshi, Clinical Lead for NHS England, Mariarosaria Taddeo, Research Fellow, Oxford Internet Institute, Bart van der Sloot, Senior Researcher, Tilburg Institute for Law, Technology and Society (TILT) e Francesca Fedeli e Roberto D'Angelo, Founders FightTheStoke.
About Frontiers Health
Frontiers Health è un evento spin off di Frontiers Conferences, che dal 2005 progetta e produce conferenze internazionali sulla tecnologia e l'innovazione. La conferenza annuale di Frontiers a Milano è diventata uno dei principali eventi per il business, il design e la tecnologia italiana. La società è stata fondata da Matteo Penzo, Technology Practice Executive at frog e fondatore di "Talent Garden", il più grande spazio di co-working a Milano, e da Leandro Agro, designer e imprenditore con più di 20 anni di esperienza nel campo della progettazione e dell'innovazione. Frontiers Health è presieduta da Roberto Ascione, CEO di Healthware, co-host della conferenza.