Digital health is booming on social media, whether it be talking to doctors online or finding out how Twitter can help explain sleep disorders, but what about Instagram?

People who have rare diseases or try to raise awareness share their thoughts through the photo sharing mobile app, but it looks like doctors are stepping up their game in the photo-sharing industry with an app called Figure 1, recognized as the "Instagram for doctors."
Physicians worldwide can upload anonymous photos to Figure 1 that show important and confounding medical cases in an effort to reach the rest of the medical community for advice and information.
The app has tens of thousands of users and just six months after it's launch in 2013, Figure 1 received $2 million in venture and angel funds to expand the app to more platforms.
Since MedCity last reported on Figure 1, the company has followed up on its promise and has expanded the app to both iPhone and Android users. They have also expanded use to more than 100 countries, verifying thousands of doctors each week.
The company has also raised a $4 million Series A funding round led by Union Square Ventures in August of last year.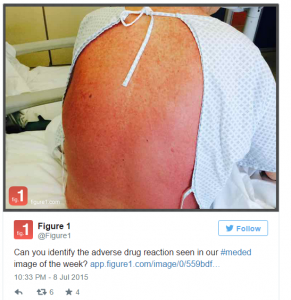 Anyone has the ability to download the app, but only medical professionals have the ability to comment and post photos, making sure that false scares and confidential photos don't appear. This posting and commenting can help patient's doctors identify their medical conditions and learn more about other health issues.
An in-app permission form must be filled out by patients before gaining access to the app's content, and identifying qualities such as tattoos and faces are blurred out in order to keep posting as anonymous as possible.
App users are able to bookmark specific photos to look at later and can either use their name or a screen-name in order to try to diagnose something as objectively as possible.
Figure 1 is also extremely beneficial for medical professionals. If one doctor is confused about a patient and is permitted to share photos of what is going on, that doctor can then receive information from other professionals that can help him figure out what exactly is going on with his patients.
Dr. Joshua Landy, the creator of the app and a doctor at an intensive care unit in Toronto, previously explained to MedCity News that since its cellphone camera technology has the ability to capture high-resolution images, it's easy for people to identify illnesses or conditions based off of an easily identifiable photo.
Landy, told the Huffington Post, "My patients are sick and have complex needs. Often we'll use images and pictures to communicate what's going on with those patients. I absolutely recognize the behavior in my own life."
In addition to the Instagram-like photo sharing capabilities of Figure 1, the app also includes Paging — a feature that uses push notifications to help locate a medical specialist within the Figure 1 network who can provide input on a specific posted case. Landy claimed that the average time it takes to solve cases using Paging is 30 minutes.
Landy explained to the Huffington Post, "The big goal is to help democratize medical knowledge. I want that knowledge to be everywhere in the world where there is Internet signal, because the knowledge of specialists shouldn't be beyond the reach of the world's medical community."
 Articolo di Nina Ruhe su MedCityNews