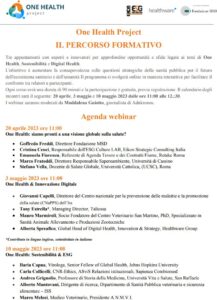 Tre appuntamenti con esperti e innovatori per approfondire opportunità e sfide legate ai temi di One Health, Sostenibilità e Digital Health.
L'obiettivo è aumentare la consapevolezza sulle questioni strategiche della sanità pubblica per il futuro dell'ecosistema sanitario e dell'umanità.
Il programma si svolgerà online in maniera interattiva per facilitare il confronto tra relatori e partecipanti.
Ogni corso avrà una durata di 90 minuti e la partecipazione è gratuita, previa registrazione.
Il calendario degli incontri sarà il seguente: 20 aprile, 3 maggio e 10 maggio 2023 dalle ore 11:00 alle 12.:30.  I webinar saranno moderati da Maddalena Guiotto, giornalista di Adnkronos.
Info: https://www.onehealthproject.com 
Agenda webinar
20 aprile 2023 ore 11:00 One Health: siamo pronti a una visione globale sulla salute?
• Goffredo Freddi, Direttore Fondazione MSD
• Cristina Cenci, Responsabile dell'ESG Culture LAB, Eikon Strategic Consulting Italia
• Emanuela Fiorenza, Referente di Agenda Tevere e dei Contratti Fiume, Retake Roma
• Marco Fratoddi, Direttore Responsabile Sapereambiente, Università di Cassino
• Stefano Vella, Docente di Salute Globale, Università Cattolica, (UCSC), Roma
3 maggio 2023 ore 11:00 One Health & Innovazione Digitale
• Giovanni Capelli, Direttore del Centro nazionale per la prevenzione delle malattie e la promozione della salute (CNaPPS) dell'Iss
• Tony Estrella, Managing Director, Taliossa (contributo in lingua inglese, sottotitolato in italiano)
• Mauro Marmiroli, Socio Fondatore del Centro Veterinario San Martino, PhD, Specializzato in Sanità Animale Allevamento e Produzioni Zootecniche
• Alberta Spreafico, Global Head of Digital Health, Innovation & Strategy, Healthware Group
10 maggio 2023 ore 11:00 One Health: Sostenibilità & ESG
• Ilaria Capua, Virologa, Senior Fellow of Global Health, Johns Hopkins University
• Carla Collicelli, CNR-Ethics, ASviS Relazioni istituzionali, Sapienza Combiomed
• Andrea Grignolio, Professore di Storia della Medicina, Università Vita e Salute, San Raffaele
• Alberto Mantovani, Dirigente di ricerca, Dipartimento di Sanità Pubblica veterinaria e sicurezza alimentare – ISS
• Marco Melosi, Medico Veterinario, Presidente A.N.M.V.I.